Incubation Model
We want to build this center as one point contact for all matters related to innovation, incubation, entrepreneurship and commercialization. To operationalize this vision, EPIC will have five centres that mutually support each others' functions: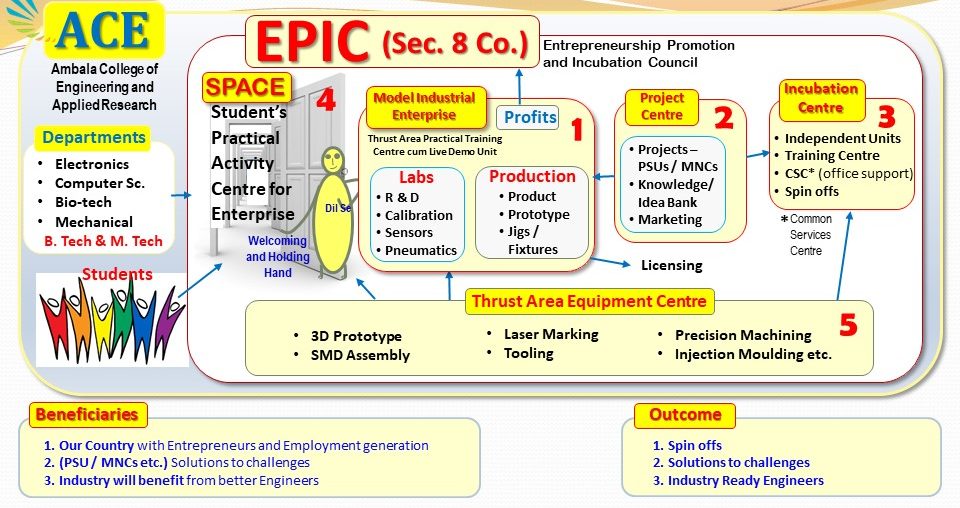 1. Model Industrial Enterprise: MIE will be the model training center. It will be the heart of EPIC. Developed as a commercial enterprise, the function of MIE will be to develop, manufacture, market products/solutions, support R&D. MIE will be fully operational and running enterprise with all functions, such as Purchase, Accounts, Quality, Production, R&D, Stores, Sales/Marketing, etc. Students will be integrated into it through internships, project responsibilities, etc.
The Promoters have identified some projects for development and production, under MIE.
Special Application Recorder for defense services.
Managing un-manned railway crossing through technology.
Precision X, Y, Z movement. Potential of this is multi-faceted, and many products can be developed. E.g: 3D Printer, Tool-Maker Microscopes, CNC Special Purpose Machines, etc.
These product lines have the potential of several crores of rupees. Profits from this MIE will be ploughed back and used towards attaining self-sufficiency for EPIC.
2. Project Centre: Project Centre will attract PSUs – like Railways, Indian Oil, Defence Services, Shipyards and MNCs – like Coke, Pepsi, Walmart etc. and others. Through this – Entrepreneurs will provide solutions to challenges presented by PSUs/MNCs, thus creating marketable product and spin-off as an enterprise.
Example: We are working on one such Railways project. i.e. Managing un-manned railway crossing, through technology. Proof of concept has been validated already.
3. Incubation Centre: EPIC will run campaigns through competitions/seminars in various institutes to make potential candidates aware of the Entrepreneurship opportunities and support of EPIC. Candidates will be selected through laid down procedures. They will be required to form a company, for which EPIC can help. His qualities of perseverance, passion for his project, ability to work hard, knowledge, and visualization will be judged to qualify.
Mentorship will be provided through promoters of EPIC and a team of FDP trained teachers.
4. Student Practical Activity Centre for Enterprise (SPACE): Students from 2nd year onwards will be encouraged to participate in MIE and entrepreneur projects, thus creating an interest in entrepreneurship. The interested student will be provided with dedicated resources, mentoring, and practical training.
5. Thrust Area: The promoters have the below-mentioned facilities installed in their businesses. Promoters feel that to control the timeline and cost of an emerging enterprise, it is essential that incubates have access to such facilities at low cost and on a fast turnaround basis. The main function of the Thrust Area is to provide support to MIE, Incubatees, and SPACE.
6. Hostel and Mess Facility: For incubators, who come from outside, Hostel and Mess Facility is available on campus.
Incubate Spectrum: Focus area is Technology Business Incubation. Our prime role is to promote Entrepreneurs who wish to establish an enterprise based on technology. Preference will be given to incubate who wants to set up manufacturing enterprises. Incubate can be On-campus or Off-campus. On-campus Incubatee will take space in the Incubation Centre, whereas Off-campus Incubatee will work from his own space. Both will have access to mentorship and the facilities of EPIC.